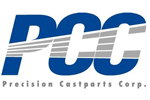 LOS ANGELES (May 15, 2015) – Buxbaum HCS is pleased to announce that its client, Press Forge, was sold to Precision Castparts Corp. (NYSE:PCP).  As a key member of the deal team, a Buxbaum interim CFO served as the point person for accounting and finance, interfacing with the company, investment bankers and auditors.
"Quite simply, our recent transaction would not have closed as successfully as it did without the support of Buxbaum HCS and its exceptional interim CFO," commented Mike Buxton, president of Press Forge.  "Buxbaum recruits top-notch individuals and, more importantly, carefully matches talent to open assignments."
Buxbaum's CFO prepared Press Forge for a financial audit, prepared financial models and forecasts and remained post-transaction to facilitate a smooth transition.
Press Forge is the largest conversion metal forger and manufacturer in the U.S. and Precision Castparts is a $10 billion global leader in structural investment castings, forged components and airfoil castings for aircraft engines and industrial gas turbines.
About Buxbaum HCS
Buxbaum HCS improves business outcomes by quickly delivering high-quality interim and permanent accounting professionals who fit clients' needs and corporate cultures.  Investment bankers, attorneys and accountants refer clients to Buxbaum to achieve higher valuations in a sale, clean up accounting systems, prepare for financial audits, and to fill vacancies in accounting and finance departments.  Buxbaum's interim and permanent CFOs and controllers provide the experience businesses need, when it's needed.  www.buxbaumhcs.com